Properties:
Poly -seamless acid (PLA) is a biodegradable plastic derived from renewable sources (corn starch or sugar cane). Pla is recyclable, but it can also be biologically distributed in composting plants. Is colorless and transparent.
PLA has a density of 1.25 kg/cm3. The glass transition temperature is usually around 50 ° C, the melting temperature between 170 and 230 ° C. The decay temperature is about 250 ° C. Polymers of lactic acid are flammable.
Main feature listing:
Simple Settings for printing
Small shrinking when cooling - no heated pad or chamber
Good print quality even when printing at high speed
Soluble in sodium hydroxide
100% recyclable
Biologically degradable material
PLA filament the European regulations EC 1935/2004, ES 2023/2006 and EC 10/2011 on plastic materials and subjects coming into contact with food. The dyes used also meet these European regulations.
To achieve the best print results, we recommend that you keep a 3D printer in a room, without temperature fluctuations. We do not recommend a room where people sleep.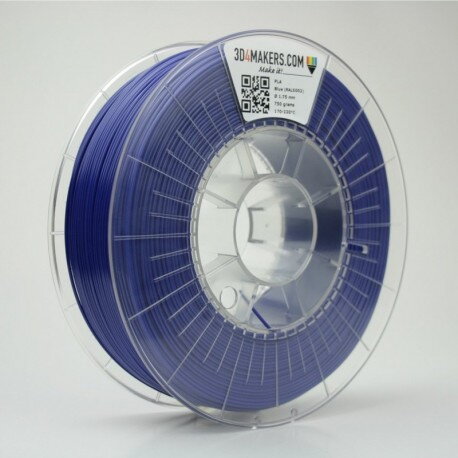 PLA 1.75 mm 750 g blue (RAL 5002)