Main features:
print space
Mini has a print volume of 18 x 18 x 18 cm. The printing area is fully automatically calibrated using Mesh Bed Leveling.
Full color LCD
For a few clicks you set what you need - no complexity, simple user -friendly menu. Everything is displayed in 65 thousand colors.
Network connectivity
MINI - Buddy Board has an Ethernet RJ45 for network connection. Easily upload print files via the network, update the firmware. Easy to operate the entire print farm over the network.
Safety above all
We test everything thoroughly directly in our own production abroad and then again in the Czech Republic. Mini has 3 thermistors (temperature sensors) and a high -quality power supply (Mean Well).
Printing plates replacement
3 types of printing boats (smooth PEI stickers (default), black PEI (special industrial oil) and grained powder pei in gold color). Slop the plate lightly and the prints are easy to separate.
Returning the finished print from the heated pad has never been easier! With a magnetic heated pad and replaceable printing plates, you can simply remove the print by bending the printing plate and literally jumping out of it. You can choose from two printing plates according to their surface: smooth and granular.
Automatic print on one click
Save the new GCODE on the USB key - insert into the printer - the printer displays preview - confirm and print. It has never been easier.
32-bit control plate
More computing power, more options. 32bit the "Buddy" motherboard with TMC 2209 stepper drivers).
properties and parameters
plastic bed on X -axis (type A - beige, type B - gray)
Replaceable printing plates with smooth, coarser or granular PEI surface
32-bit "buddy" motherboard
Silent Trinamic 2209 Drivers
Heatbreak - high -quality titanium heatbreak with a tapered neck behind the thread part. Length 32 mm, thread inner hole 2 mm and length 5 mm, smooth part diameter 5.5 mm, inner diameter 4.1 mm.
Ethernet RJ45 port
3 thermistors, fan speed sensors
Bowden system with 3: 1 transmission
printing space 18 × 18 × 18 cm
Fast preheat: PLA 1 min / ASA 3 min
nozzle temperature: up to 280 ° C (PTFE tube leads up to nozzle - we do not recommend temperatures above 260 ° C - when changing heatbreak for all -metal manages up to 280 ° C - limit SW)
pad temperature: up to 110 ° C (printer may not reach this temperature in a cold environment)
automatic calibration
2.8 ″ and 3.2 ″ 65K color screen with file preview
Supported Materials - PLA, Petg, ASA, ABS, Flex
Package weight: 8-12kg
printer dimensions (without Filament and external source holder): 38 × 38 × 33 cm
The Package is the FILAMENT SENSOR AND FILAMENT Holder.
(not an original printer from Prusa Research) (printer is a combination of parts of several manufacturers including PR)
These are second -hand goods with short warranty.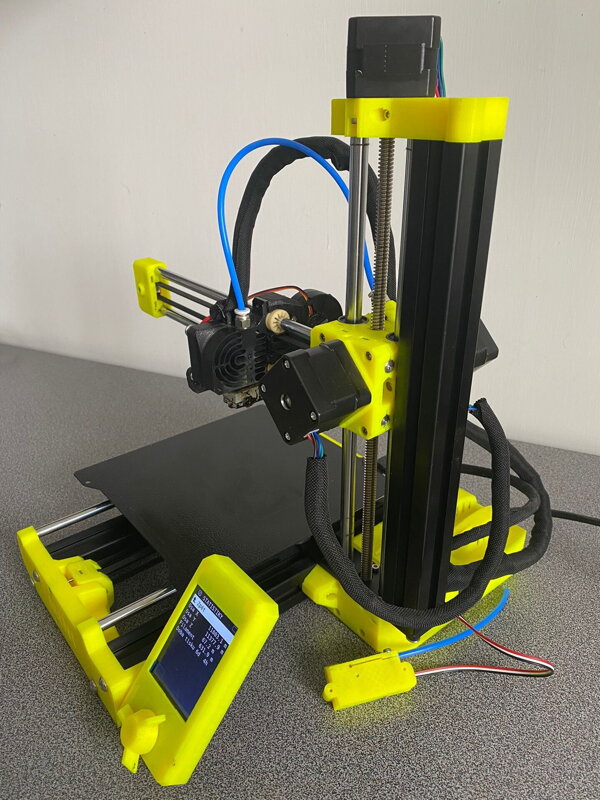 3D printer mini - used items - two types