Quality printing material of the FIBER3D brand.
PC material for printing on 3D printers is classified as thermoplastics. It can be used practically anywhere, it can be especially recommended for technical applications in electrical engineering and the automotive industry.
Material description: PC, Polycarbonate, is the hardest plastic used for 3D printing. It has very good impact resistance and good heat resistance. The advantage of this material is that it remains flexible even in the cold. The disadvantage is the higher melting point of the material. The greatest use can be found for printing transparent prototypes. PC is very often used in conjunction with ABS material, or it is an alternative to it, mainly due to the similar properties that PC offers. Along with nylon and ASA, it is one of the most difficult to print materials available. Processing temperature 250 – 280°C.
The product that you print using polycarbonate is characterized by high resistance (high hardness, resistance to temperature up to 150 °C, abrasion), but also low weight.
Storage: keep dry. Protect from heat.
Main advantages of PC material:
stiffness, high temperature resistance
Weight incl. packaging: 1.36 kg; Coil outer diameter: 200 mm; Center hole diameter: 56mm; Coil width: 64 mm.
Mass flow rate: 30 - 35 g / 10 min (280°C)
The material is supplied in a cardboard box or without a box, vacuum packed together with silica gel, which absorbs moisture.
Available in transparent color.
Additional information
| | |
| --- | --- |
| Category: | PC |
| Barva: | transparentní |
| Váha materiálu: | 1 kg |
| Průměr: | 1,75 mm |
| Přesnost struny: | ± 0,02 mm |
| Teplota podložky: | 90 - 110° C |
| Teplota trysky: | 250-280°C |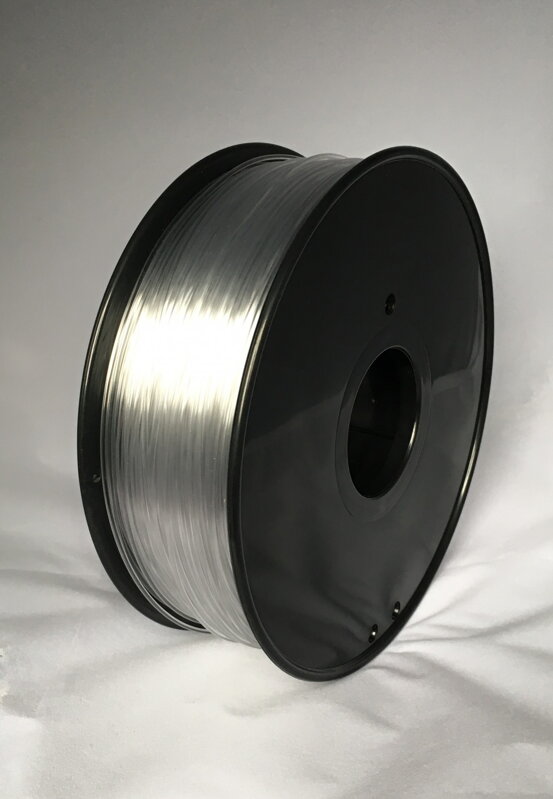 FIBER3D PC - polycarbonate fiber 1.75 mm 1kg