Dimensions : 190 x 190 mm
Advantages :
When printing, there is no need for 3m tape or glue
No PEI Foil Exchange
Easy to print on this pad
Print can be easily removed from the pad - bending the pad
Easy maintenance
Double -sided
Original PEI powder surface
There is no deformation
Suitable for materials: PLA, ABS, PET-G, TPU, PVA and more.
Compatible 3D printer: Prusa Mini; printer with similar size magnetic pad
Maintenance: wipe the print surface with isopropyl alcohol before and after printing to keep the surface clean for maximum adhesion to the substrate. As with other pads, make sure the nozzle is not too close to the pad.
Removing prints: remove prints from a cold pad (less than 30°C) by slightly bending the plate (hot removal will damage the powder surface of the pad)
Recommended temperatures for printing:
1. PLA, TPU, etc.:
60°-75° C.
Nozzle temperature: 200°-210° C
2.ABS: (Not suitable)
Pad temperature:
240-250° C Nozzle temperature.
3.PETG:
Pad Temperature: 70-90° C.
Nozzle temperature: 240-250°C
Available in two material versions:
Black - special industrial oil (called Chinese PEI)
Gold - original powder coating of ultem material (inconsistency of color does not affect function)
Black pad has a smoother surface than gold
(This is not the original powder coating from Prusa Manufacturing)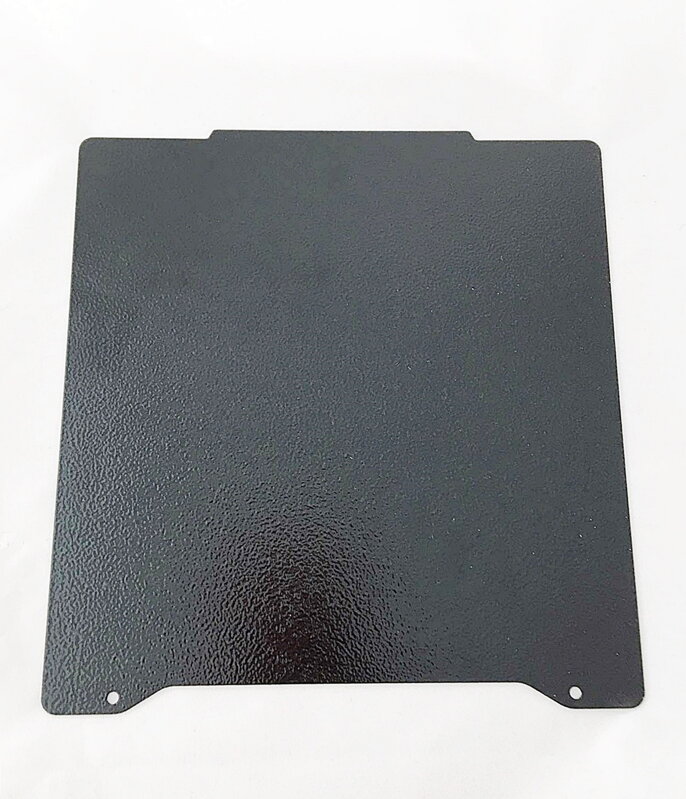 Powder coated PEI printing pad MINI - double sided steel