The main advantage of this filament is undoubtedly the ability to resist the temperatures around 150 ° C for a long time. It also has a great adhesion between layers, giving the printed piece of great durability and thus not deformation even in printing a larger size.

Specifications:
- diameter: 1.75 mm (± 0.03)
- working temperature : 240 ° - 260 ° C
- Pad temperature: larger than 60 ° C
- print speed: 30 - 50 mm /s

temperature resistance: Strong>
Maximum working temperature - Long -term exposure: 150 ° C
Maximum temperature - short -term exposure: 180 ° C

Pack size: M 500G
Recyclable >

tips and recommendations for printing:

1. Protection against moisture

Innovatefil® PA FC is supplied in the vacuum container, which ensures perfect protection against moisture. Before closing into the packaging, the fiber is subjected to the strictest quality control by dehumidifying the raw material, where the humidity is less than 0.02 %.

After unpacking, we recommend keeping it in a dry and dark environment. Otherwise, the material can absorb up to 0.5 % of air humidity, which will then evaporate during the extrusion, causing poor surface treatment.

To maintain optimal printing conditions, it is recommended to dry the material before use in the 3D printer fiber. Many printing devices already contain these drying systems.


2. Recommendations for printing filament with carbn fibers span>

carbon fibers make the string very abrasive, so it is necessary to use hardened steel nozzles or other hardened variants, preventing them premature.

We recommend using at least 0.6 mm nozzles and set the printing height to 0.2 mm or larger. Failure to observe these recommendations could cause nozzle clogging.

3. Keep the extruder in good condition

Once the print is completed, it is advisable to clean the nozzle. If you print from multiple types of material, it is advisable to consider changing the nozzle for each material to avoid mixing it.

We recommend using a cleaning string Smartfil Clean .
Additional information
| | |
| --- | --- |
| Category: | Special |
| Barva: | černá |
| Váha materiálu: | 0,5 kg |
| Průměr: | 1,75 mm |
| Přesnost struny: | ± 0,03 mm |
| Teplota podložky: | 60 - 100°C |
| Teplota trysky: | 240 - 260°C |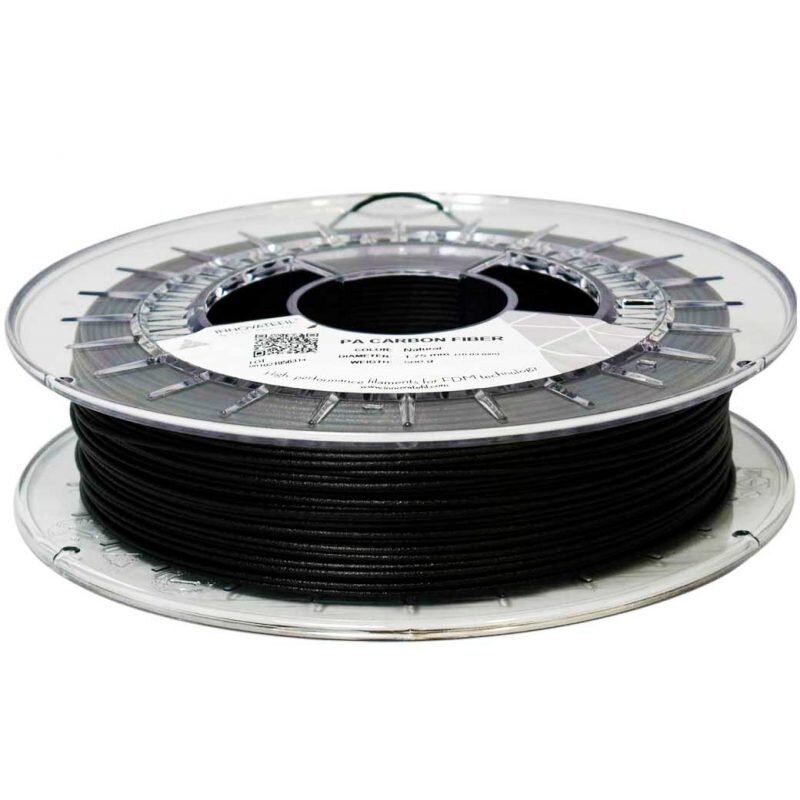 Innovatefil nylon pa/cf filament black 1.75 mm 500 g x