Quality FIBER3D printing material guaranteeing trouble-free printing.
The glittering filament for use in 3D printers is very strong and does not exclude chemical odor when printing. PLA is biodegradable and helps to print large parts more easily.
Material description: PLA, Polylactic acid, polylontic acid is bioplastic made of corn starch with the same properties as plastic made of oil. This plastic is much more gentle on nature than ABS. Tetrahydrofuran soluble, possible long-term exposure to acetone can cause the surface etching. PLA is not healthy and is degradable in nature -controlled composting. Compared to ABS, the material strength is higher, the material is better printable, the only disadvantage is the lower temperature resistance. PLA can be actively cooled during printing, it does not need a heated pad.
The PLA processing temperature is 190 - 220 ° C.
PLA treatment: The material cannot be easily sanded, grinding (friction) produces heat that causes "pulling" fibers from prints. Therefore, it is advisable to cool the printout for manual grinding.
Storage: We recommend securing a dry environment. In poor storage in a humid environment, it absorbs moisture, which manifests itself as bubbles on the surface. Protect from heat.
Simple Settings for printing
Small shrinking when cooling - no heated pad or chamber
good print quality even when printing at high speed
soluble in sodium hydroxide
Biologically degradable material
Available in colors: Twinkling Black, Twinkling Blue and Twinkling Pink
10 meter sample (+-1 meter - packed manually)
Warning: Samples are intended for immediate use.
Additional information
| | |
| --- | --- |
| Category: | PLA |
| Barva: | modrá, černá, s třpytkami |
| Váha materiálu: | vzorek |
| Průměr: | 1,75 mm |
| Přesnost struny: | ± 0,02 mm |
| Teplota podložky: | 0 - 60° C |
| Teplota trysky: | 190 - 220° C |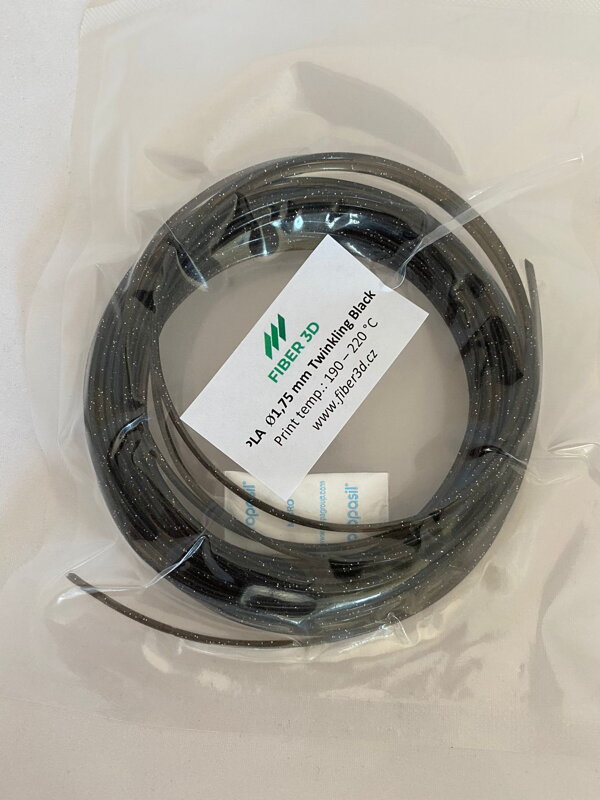 Sample FIBERD PLA Twinkling Filament 1.75 mm 10 m for 3D pen