Modified polyethyleneftalatalkol-Pet-G is an amorphous thermoplastic copolyester, which is characterized by excellent strength and optical properties. Filament PET-G is designed primarily for professional 3D prints with FDM technology. It is more flexible and softer than PLA or ABS filament.
It has a very small shrinkage and excellent layer adhesion, which makes it suitable for large 3D prints. PET-G is highly chemically resistant to acids and does not issue any unpleasant odor during printing.
That's why 3D printing with Swift Pet-G is so pleasant! Another indisputable advantage of this filament is its recyclability.
Properties
glossy surface after printing
a slight effect of threading (dental threads)
high accuracy of printed parts
high transparency
high mechanical strength
How to Print?
Recommended Print Temperature: 220-250 ° C
Washing pads: 60-80 ° C
Additional information
| | |
| --- | --- |
| Category: | PETG |
| Barva: | modrá |
| Váha materiálu: | 1 kg |
| Průměr: | 1,75 mm |
| Přesnost struny: | ± 0,05 mm |
| Teplota podložky: | 60 - 80°C |
| Teplota trysky: | 220 - 250°C |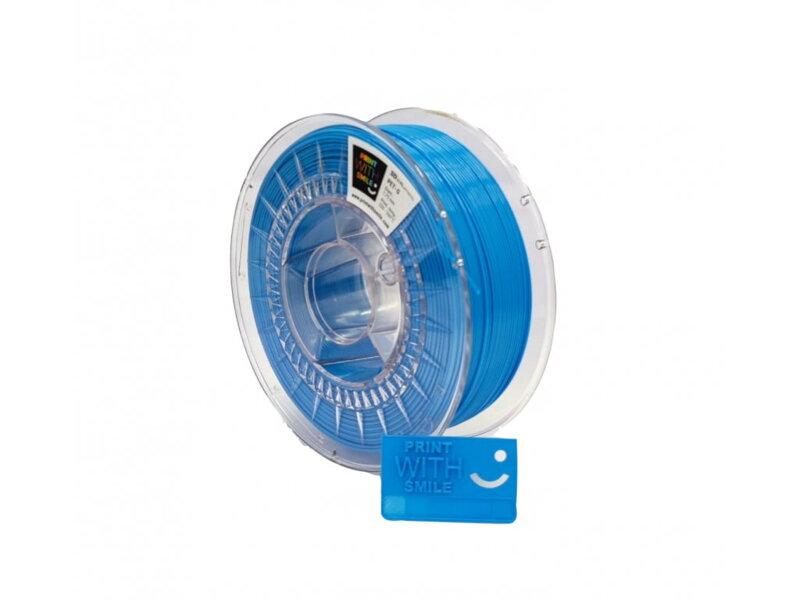 Print with Smile - Pet -G - 1.75 mm - Cyan Blue - 1 kg