Properties
for larger resin prints
Solution 2 in 1
360 ° treatment
Description
Larger and more powerful
Anycubic Wash & AMP; Cure Plus is perfect for cleaning and curing your resin prints. Thanks to an even larger cleaning container and enlarged curing platform, it is now much easier to process even larger prints. The material properties of the resin are significantly improved after cleaning and cure. The materials of resin are significantly improved thanks to cleaning and cure.
Cleaning Size (Wash): 192 mm (D) x 120 mm (W) x 290 mm (H)
The size of the hanging object (Wash): 192 mm (d) x 120 mm (w) x 235 mm (v)
CVING SIZE (CURE): 190 mm (D) x 245 mm (H)

360 ° Comedation, thanks to 360 °, Lights in L -shaped lights and mirror stickers, that´s very accurate.
It is possible to set the upper UV lamp and so the model is thoroughly cured from the top.
Improved UV lamp, Optic lens guarantees more even exposure and thorough cure of printing.
Two different methods of cleaning allow more flexible cleaning of the model and prevent contact with resin.
Resin model can be cleaned straight in the basket or can be attached to the cleaning basket/cleaning console together with the print platform to reduce the contact with the cleaning agent.
Stronger cleaning force thanks to the constant rotation.
Safe use
If the cover is uncovered during curing, the device automatically turns off. You are protected from UV radiation.
Larger closed cleaning container
The 256 x 209 x 355 mm container is compatible with all LCD resin printers on the 8.9 -inch and less market. A closed cleaning process can prevent spraying and evaporation of liquids.
UV radiation cover blocks 99.95 % UV radiation
Easier switching of modes
The choice of time from 1 to 60 minutes offers more cleaning and curing options.
Specifications
uv light → 405 nm
Weight → approx. 6.5 kg
device size → 290 mm (d) x 270 mm (w)
Delivery range
Cleaning stand
Cleaning basket
curing platform
reflector
Cleaning container
Service card
Key
Manual
power cable
Information and Product Technical Data
Product No-WiSXA0BK
Manufacturer No. S010101
Mark (manufacturer): ANYCUBIC
Contents: 1 product product: cleaning, post-processing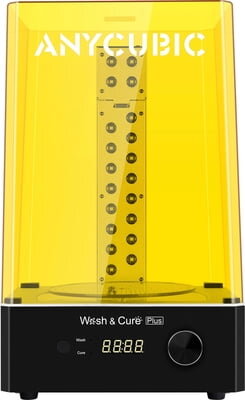 Anycubic Wash & Cure Plus