Active coal absorbs and filters the irritating odor of the resin before the fan is released back into the air. A battery with a capacity of 2,000 mAh can work continuously for at least 24 hours.
The cleaner is suitable for Elegoo Mars printers, but also for LCD, DLP and MSLA printers.
Package content:
2x mini cleaner
1x power adapter with cable
Product size - 44 x 44 x 107 mm. Weight of individual product - 119.5 g.
fan speed - 4000 / R. Battery capacity - 2,000 mAh. Power 0.3 watt. Charging Specifications - 5V 1A.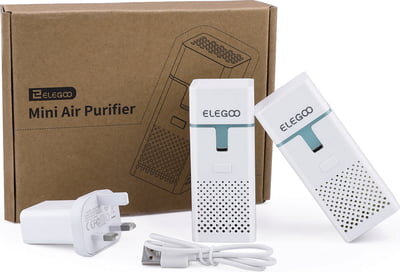 Elegoo set of 2 mini air cleaners