Warning - this is a bazaar product with a short warranty. The printer will be sent in the original box in unfolded condition / or composed in a non -original box according to the decision in the expedition. Accessories may not be complete.
Flexible metal pad - shows the signs of use (only one side, the other is unused), see. Photos in the gallery.
BIQU B1 is in the postature improved clone Ender 3. It is characterized by a significantly larger print volume of 235 x 235 x 270 mm, adjustable belt tension in the Y -axis and a compact base unit. It also includes a bowden extruder and a heated alternating pad that should provide fast and continuous heating.
flexible metal pad
- magnetic steel pad BIQU SSS (spring steel sheet)
- Easy to remove printing
- can be used from both sides (extended life)
32 -bit control unit
- 32-bit motherboard Sk v1.4 with ARM Cortex-M3
- combination with quiet step controllers (Drivers) TMC2225 offers a printer stable and quiet operation
Very quiet 3D printer with dual operating system
- The manufacturer is an operating noise 42.8 dB
- WIFI connection, automatic leveling probe BLTOUCH, BTT Smart Filament sensor or - because the B1 uses a USB type C cable to connect - it is also easy to replace the laser engraving head
touch interface
- touch screen BTT TFT35 V3.0
- includes a model preview function or G-Code interface
- dual operating system
- LEDs with different color shades
print space lighting
- Hotend is also equipped with colored LEDs for easy print observation even in unfavorable lighting conditions
Specifications:
Print technology: FFF/FDM
Printing area: 235 x 235 x 270 mm
layer resolution: 0.1 - 0.3 mm
print string diameter: 1.75 mm
nozzle diameter: 0.4 mm
position accuracy: x/y: 0.011mm. From: 0.0025mm
Type of print strings: PLA, ABS, HIPS, PETG, Wood-Polymer, Nylon and others
USB: Yes
direct printing from PC: Yes
Offline Print: Yes
wifi: optional
Auto-Leveling: Optional
Object Cooling: Active
print speed: 100 mm/s
Connection options: PC via USB 2.0 and SD card
Engine accuracy: +-0.1
Power Source: 24V
type C connector
color touch screen - BTT TFT35 V3.0
Newly integrated adapter board
sheet of super flexible steel
Filament sensor
New nozzle design
- assembly time: 30 - 90 minutes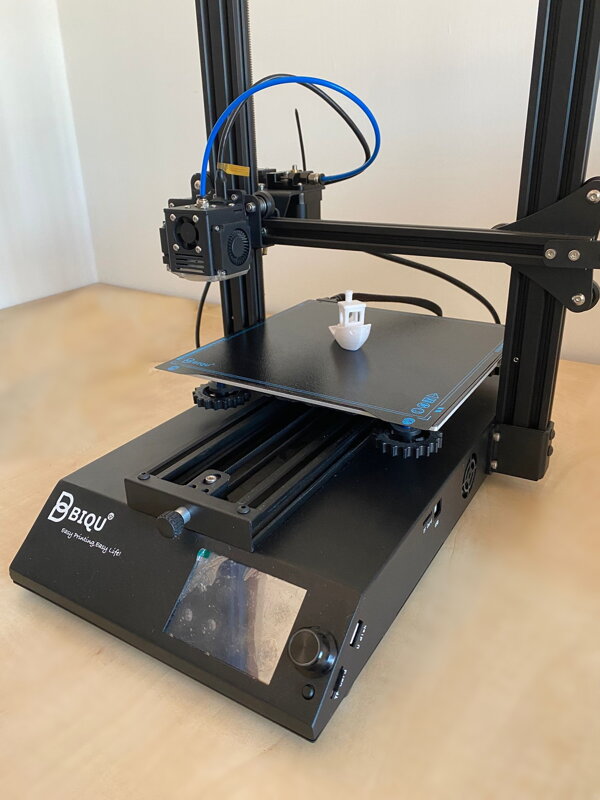 3D printer BIQU B1 - bazaar goods