We offer crossing / approach coils of filament from the raid of production, where the string is not entirely shiny. Furthermore, there are coils with worse cause and poor weight in this category, or have a deviation in color.
coils could also be excluded from standard sales due to dirt on the coil.
Filaments are 1.75 mm in diameter with a tolerance of 0.05 mm.
We decided to include these coils on sale because they meet quality requirements. Filaments are not older than 4 months. The coils together with the drying bag are vacuumly wrapped in a zipper bag. Coils are not further packed in our piece printwithsmile boxes.
how to print?
Recommended print temperature: 215 - 230 ° C
heating pads: 60 - 63 ° C
Material flow: 100 %
nozzle diameter: & gt; = 0.2 mm
Our Filaments PLAs are made of premium and provenomine material

PLALAMENT PLANEMTA characteristics for printing on 3D printers:
perfectly impermeable for fragrances and odors
Filament is impermeable for oxygen
is easy to shape, print and emb
high resolution of printed details
Excellent against moisture
high stiffness
low shrinkability
EN 13432 - European standard on the possibility of composting
Filament is made of 100 % renewable sources
Additional information
| | |
| --- | --- |
| Category: | PLA |
| Barva: | černá |
| Váha materiálu: | 0,7 kg |
| Průměr: | 1,75 mm |
| Přesnost struny: | ± 0,05 mm |
| Teplota trysky: | 215 - 230° C |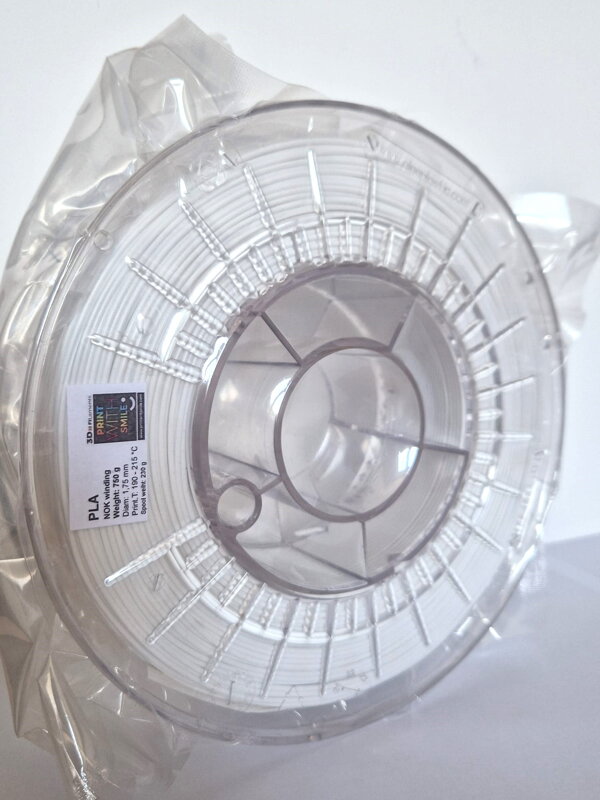 Print with Smile - Pla - 1.75 mm - 1 kg - Runs of Colors