Now in the menu: 1 pc orange -brown with gray color in the middle of the coil
We offer crossing / approach coils of filament from the raid of production, where the string is not entirely shiny. Furthermore, there are coils with worse cause and poor weight in this category, or have a growth in color.
coils could also be excluded from standard sales due to dirt on the coil.
Filaments are 1.75 mm in diameter with a tolerance of 0.05 mm.
We decided to include these coils on sale because they meet quality requirements. Filaments are not older than 4 months. The coils together with the drying bag are vacuumly wrapped in a zipper bag. Coils are not further packed in our piece printwithsmile boxes.
ASA The material is characterized by excellent resistance to UV radiation, heat, humidity and cracking during load. ASA is ideal for printing details exposed to weather conditions. In addition, ASA is chemically resistant, temperature stable and has antistatic properties. Like ABS, it is a material of petrochemical origin, but due to the lack of butadien in its composition, this material is characterized by significantly smaller stinks, which is much easier for printing.
properties
Good adhesion between layers
Material for advanced users
matte surface after printing
does not read
high accuracy of printed parts
High shock and mechanical strength
UV resistance and weather conditions
how to print?
Recommended print temperature: 220-250 ° C
pad temperature: 80-120 ° C
Material flow: 100-103 %
Retraction: ± 5
nozzle diameter: & gt; = 0.1 mm
print speed: 30-80 mm/s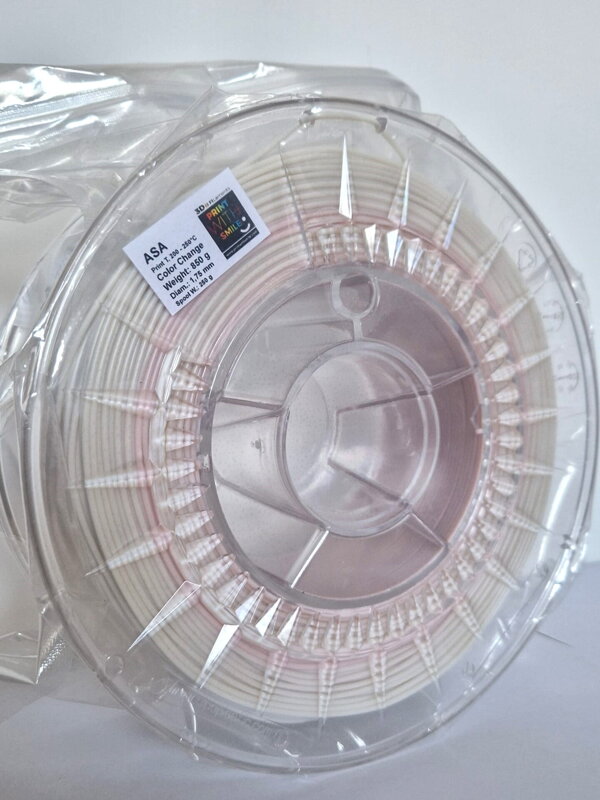 Print with Smile - ASA Color Run - 850 g - 1.75 mm