Quality printing material brand FIBER3D .
PA nylon is Extremely strong, durable and versatile material. Thanks to its great durability it is used in automakers.
Material description: pa, nylon, is a synthetic polymer, a thermoplastic, a very durable material that is used to print extremely robust and heavy freight parts. It is made of coal, water and air. Nylon PA fibers are heavy, have high tensile strength, shine and elasticity. Nylon has a very poor adhesion to the printing mat. It is flexible in thin layers, but with very high adhesion (adhesion) between layers. Its low friction coefficient and high melting temperature is an excellent choice for printing functional and technical parts. It is very hygroscopic, that is, it quickly absorbs water from the air. For the printing with nylon to be successful, the fiber must be dry. If it is not dry, they will form on the material of the bubbles. The dry nylon fiber prints smooth objects with a shiny surface. Nylon processing temperature is 230 - 280 ° C.
Storage: Store in dry. Protect from heat.
very durable material
for printing extremely robust and heavy freight parts
Weight incl. Packaging: 1,36 kg; Outer coil diameter: 200 mm; Center hole diameter: 75 mm; Coil width: 64 mm.
Mass flow : 3 - 4 g/10 min (260 ° C)
Material is supplied in cardboard box or without a box, vacuum wrapped together with silica gel that absorbs moisture.
Supplied in Natural color.
Additional information
| | |
| --- | --- |
| Category: | PA - nylon |
| Barva: | natural |
| Váha materiálu: | 1 kg |
| Průměr: | 1,75 mm |
| Přesnost struny: | ± 0,02 mm |
| Teplota trysky: | 250 - 270° C |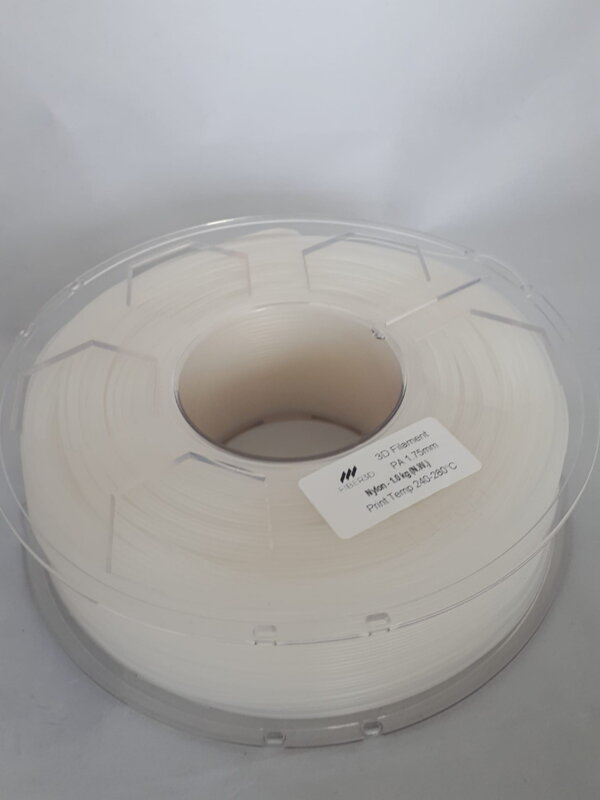 FIBER3D PA - Nylon Filament 1.75 mm 1kg