The nozzle is made of high quality brass and stainless steel, which is resistant and resistant to rust or corrosion and has a long life. Connecting the outer thread M6 is simple and comfortable.
Nozzle shape (long and pointed) helps to speed up the melting of the material, accelerate printing and increase print quality.
Steel tip can be separated and replaced separately.
nozzle is compatible with many heating cubes such as E3D, MK8, Lulzbot, Olson, Ultimaker etc.
Available in dimensions:
0.2 / 1.75 mm
0.3 / 1.75 mm
0.4 / 1.75 mm
0.5 / 1.75 mm
Note:
The nozzle must be preheated to 180 ° - 200 ° C before the steel tips.
After replacing the nozzle Calibrate the distance between the nozzle and the printing pad.
These are small parts, keep out of reach of children!
A rubber O -ring is not part of - we found no one that would withstand temperatures higher than 200 ° C. The nozzle can be tightened without the ring.
(product can be ordered after 1 piece, photo is only illustrative.)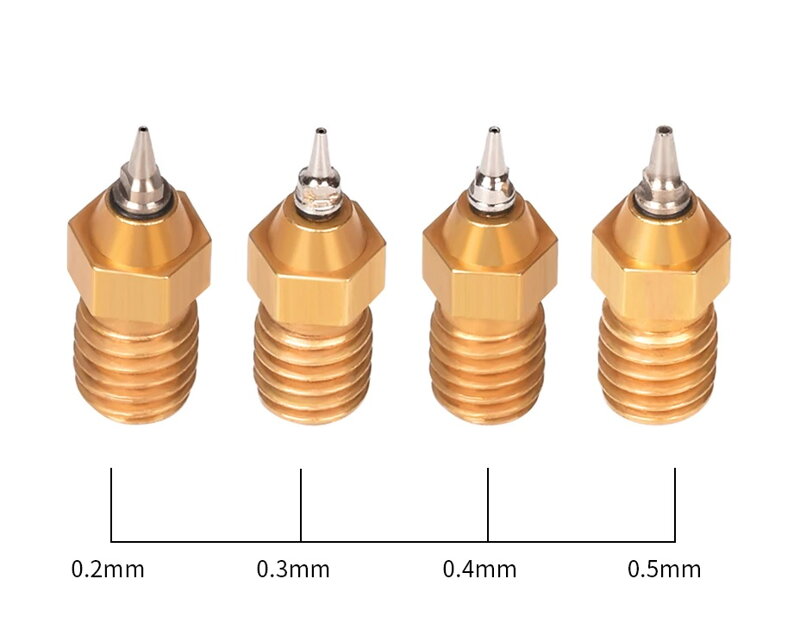 Brass nozzle M6 with airbrush tip