Developed by the BIGTREETECH team, the E3 RRF V1.1 control board is tailored specifically for the Ender3 series printers, perfectly replacing the original Ender3 series printer motherboards. It also has a high-performance main control chip.
Advantages:
1. ARM Cortex-M4 STM32F407VGT6 processor with a frequency of up to 168 MHz
2. The AO1284 power supply chip mastery of 12/24 V and maximum load up to 4 A, greatly reduces the ripping of waves and disturbing interference
3. Integrated WiFi module ESP8266: ESP3D with Marlin & amp; DWC with Reprapfirmware
4. Prepared KONEKTROY: Auto -Leveling, Micro USB, 2 controlled fans, RGB lighting, power recovery, off printing after printing, filament sensor - end detection
5. Safer design, better protection
product specification:
size: 100.75*70.25mm
plate layer: 4 layers
MCU: ARM Cortex-M4 STM32F407VGT6
Power supply: DC 12/24V
Logical voltage level: 3.3V
engine drive: uart mode TMC2209
motor drive interface: xm, ym, zam, zbm, em
Temperature sensor interface: th0, thb, 2 channels 100K, NTC (thermal resistor)
display: All touch screens (AUX-1/TFT connector), original LCD12864 Ender 3 (Exp-3 connector)
Communication interface for PC: micro USB, easy connection, transfer rate of communication 115200
supports file format: g-code
Recommended Software: Cura, Simplify3D, Pronterface, Repetier-Host, Makeware
Warning:
Product may require professional assembly, not separately functional in total.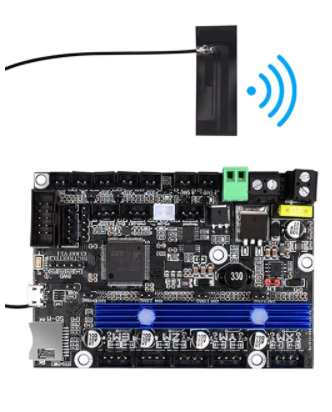 Control plate - BIGTRETRETECH E3 RRF v1.1