Petg is a modified PET, PET is pure amorphous thermoplastic with a lower melting temperature than PET. Petg Filament does not come in contact with water and is immediately packed in vacuum.
Material description:
The mechanical properties of the thermoplastic PET combine both high strength and flexibility. Therefore, it is perfect for printing mechanically stressed parts, which are also entitled to long -term durability. The durability of this thermoplastic is determined by its good physico-chemical properties, such as the high range of temperature resistance and resistance to chemicals such as solvents and weak solutions of acids and principles. Due to low temperature expansion, this material can be printed on printers without a heated chamber or printing plates.
Use:
Mechanically stressed parts-toe wheels, parts for RC modelers, spare parts. Shape containers for food and drinks. Containers for chemical samples.
Main feature listing:
more flexible and stronger than PLA and ABS high impact resistance and durability - suitable for mechanically stressed parts. Greater temperature and hot -resistance than ABS and PLA. Well grindable. Resistant to solvents and weaker solutions of acids and principles. Healthy material. Small shrinking when cooling - no heated pad or chamber - provided the mat is lubricated by some glue - eg kores.
Petg Filament meets the European regulations EC 1935/2004, ES 2023/2006 and EC 10/2011 on plastic materials and subjects coming into contact with food. The dyes used also meet these European regulations.
To achieve the best print results, we recommend that you keep a 3D printer in the room, without fluctuating temperature and air flow. We do not recommend a room where people sleep.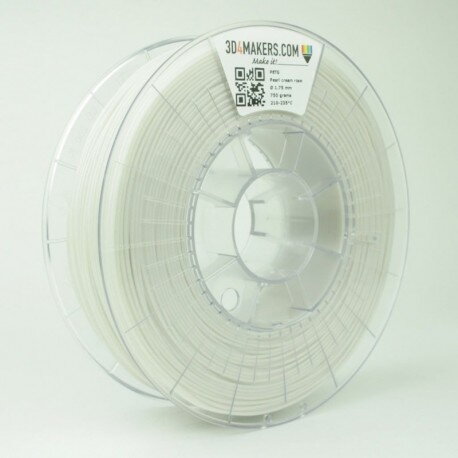 PETG 2.85 mm 750 g pink pearl